This weekend, it's an 80th birthday celebration for Little Bill Engelhart, a genuine Northwest music legend.
Little Bill was, and is a very important player in the legend of the song LOUIE LOUIE.
Bill was the founder of the Blue Notes, the very first white teenage rock 'n' roll band based in Tacoma, Washington, which was a truly radical idea at the time. Back then, these guys had the nerve and gumption to rent their own halls and produce their own shows "D.I.Y." style before the term was even conceived. During one particularly memorable show, the dancehall was overbooked and the Tacoma police threatened to shut down the event. The band pleaded with the police to play "just one more song," which lasted something like 30 minutes, which led the city of Tacoma to forbidding the Blue Notes from ever playing within city limits again.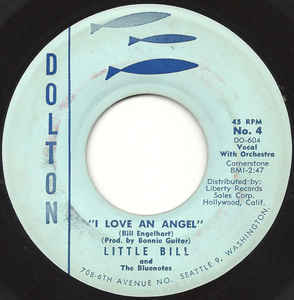 When the Blue Notes went into the recording studio to record what would have been their first record, Dolton Records of Seattle, took an interest in their recordings and chose to release one of their songs "I Love An Angel," renaming the band as Little Bill and the Bluenotes, which didn't sit well with some of the other members of the Blue Notes. Two of the members – Buck Ormsby and Robin Roberts, left the Blue Notes to join the Wailers, another Tacoma band that was getting a lot of attention.
In 1961, both Little Bill and the Wailers released cover versions of a then-obscure song titled "LOUIE LOUIE," written by Richard Berry.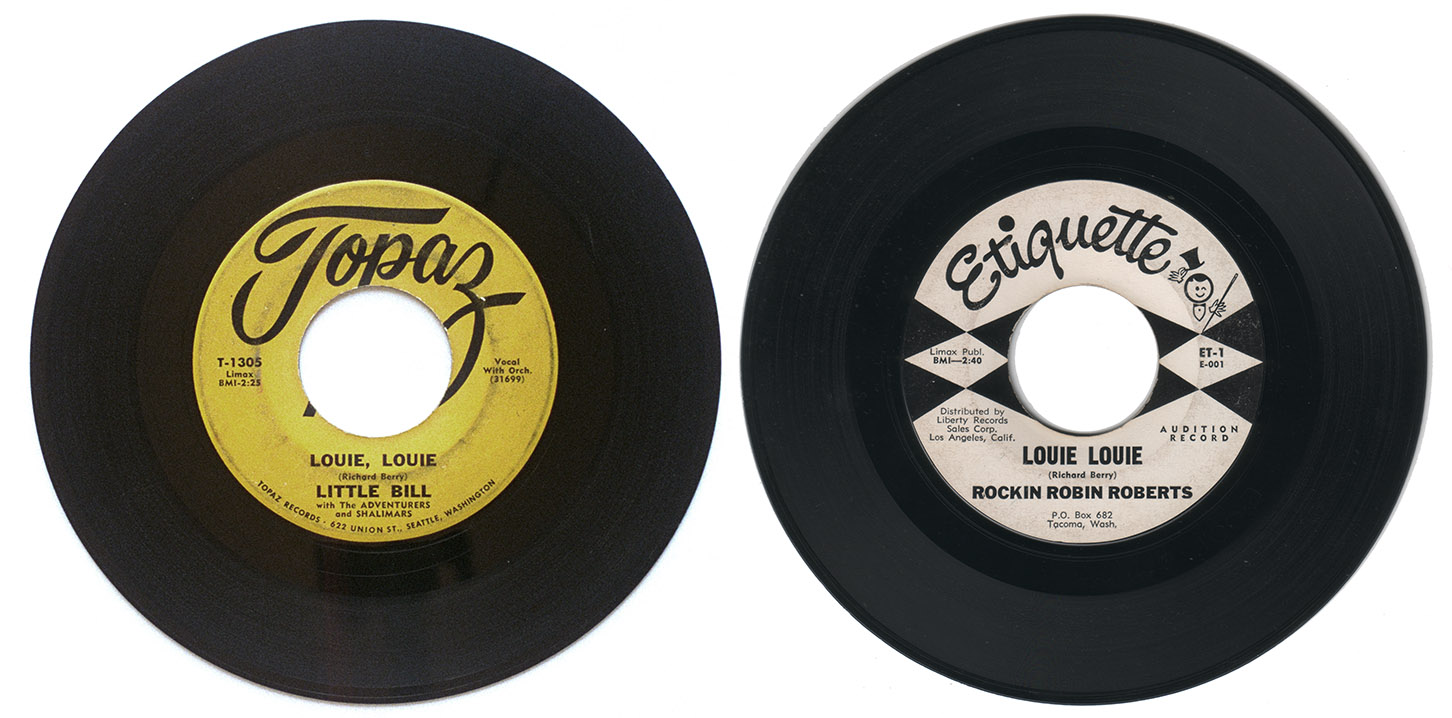 Little Bill released his LOUIE LOUIE recording under the name of Little Bill with The Adventurers and Shalimars on the Topaz Records label, and the Wailers released a LOUIE LOUIE recording by (their part-time singer) Rockin Robin Roberts on their artist-owned label, Etiquette Records*.
Both of these 1961 recordings could be considered the "missing link" between Richard Berry's 1957 recording and the Kingsmen's 1963 recording (with an honorable mention going out to Paul Revere & the Raiders, who also released a 1963 recording of the song).
And the rest, as they say, is history*..
Anyways, Sunday, March 17th is the big day when Little Bill celebrates his 80th spin around the sun.
That evening, there will be a big concert event for Little Bill at the Triple Door in Seattle celebrating his 80th year of existence as well as his 63 years as a professional musician.
The official event page on Facebook provides some details on this one:
You won't want to miss the lineup of musicians belting out the blues to honor Little Bill. Performers include Patti Allen, Tommy Morgan, Buck England, Mark Riley, Randy Oxford, Rod Cook, Billy Stapleton, Chris Leighton, Billy Barner, Jim King, Jeff Menteer, Angelo Ortiz, United by Music North America, Reverend Dave Brown (poetry), Hadi Al-Saadoon on trumpet, Terry Morgan on bass, Jesse Weston on the keyboard, Billy Joe on trumpet, and Pat Lee (assistant on stage to Little Bill). Of course, the guest of honor, Little Bill, will be performing and there will also be other surprise guests.
This sounds like a fun one, and I'm seriously tempted to make a flight to Seattle to celebrate this special event.
In the meantime, here's a never-before seen 10 year old clip of Little Bill performing his first record "I Love An Angel" – 50 years later… which is now 60 years later …
… and then there's that OTHER song…
* * * * * * * * *
* There is more to the story behind the two 1961 LOUIE LOUIE records that I didn't disclose in this brief posting.
You can learn more details about those two records by visiting Peter Blecha's "Etiquette Rules!" HistoryLink article.
______________
Reference Links:
Official event page at Facebook
Triple Door ticket details
Little Bill & the Blue Notes- official webpage
PNWBands.com – Little Bill & the Bluenotes
Northwest Music Archives – Little Bill & the Bluenotes