Remembering Joe Strummer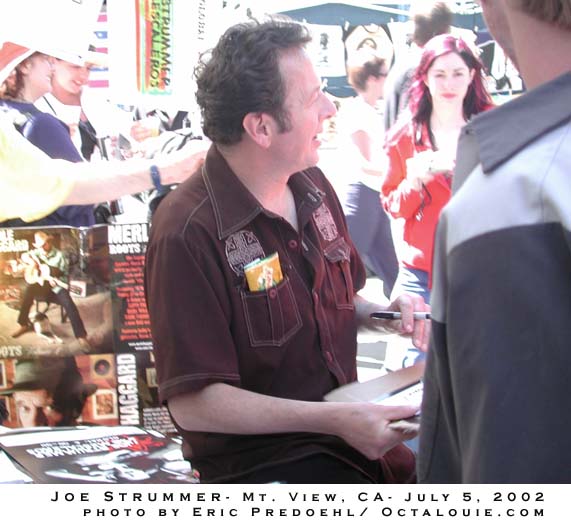 Joe Strummer had a great thing going with the Clash. They took punk rock to new heights by integrating political consciousness, reggae, ska, and other unlikely elements into their music without ever forgetting the strength of a solid 3-chord progression. I saw the Clash at Steve Wozniak's US Festival in Southern California, and Chet Helms' Tribal Stomp in Monterey. Both concerts were absolutely electrifying.
After the Clash fell apart, Joe continued to explore music as a solo artist. He even starred in one of my favorite B-movie westerns, a little spoof called "Straight to Hell," directed by Alex Cox in 1987. Joe played one of three rather stupid bank robbers that found refuge in a little western town occupied by lowlife inbreds, various scoundrels, a nerdy hot dog vendor, and a lounge singer from hell. The cast was an odd bunch- The Pogues, Elvis Costello, Dick Rude, Dennis Hopper, Sy Richardson, Grace Jones, Jim Jarmusch, and Courtney Love, who made her film debut as a whiny pregnant girlfriend of one of the bankrobbers. Instead of horses, people used cheap little subcompact cars in this town. Filmed in Spain on the same locations where most of the classic Sergio Leone/Clint Eastwood spaghetti westerns were shot, this film was marketed as "a story of blood, money, coffee, guns, and sexual tension."
This was not what anybody would dare call a "great movie," but it never fails to make me laugh like a hyena every time I watch it. The new DVD with the running commentary and the new documentary "Back To Hell" provided some extra laughs as I discovered the true origins of this silly little movie.
When I found out that Joe Strummer would be signing autographs at the Epitaph booth at the 2002 Hootenanny festival at the Shoreline Ampitheatre in July 2002, I decided I would stop by to say hello. As to be expected, there was a bit of a circus at the booth, as Joe had many fans that wanted to make contact with him. I shook his hand, and told him I had just watched the "Straight to Hell" DVD a few weeks ago. He laughed that I actually enjoyed what he called such an "awful movie," signed my complimentary Joe Strummer poster, and rushed through a lot of autographs in a very short time span.
About an half hour later, Joe performed on-stage with his current band, the Mescaleros. He sounded great.
Check out an MP3 of the Clash performing "LOUIE LOUIE." This recording was discovered on a rare bootleg 45 single I found on eBay. I love this version of the song! (This file is over 4 MB, so be sure your broadband connection is in place)
We're going to miss you, Joe.
ERIC PREDOEHL
December 24, 2002
return to....
These words and photo copyright Eric Predoehl/ Octalouie LLC. The MP3 audio should be copyright The Clash. With any luck, a legtimate version will be released, with superior audio.