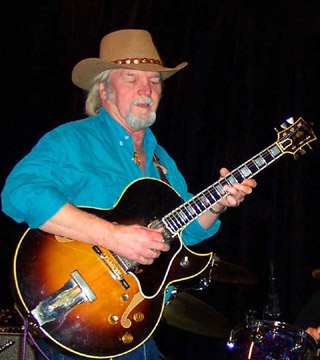 Among guitar players, Jerry Miller is one of those guys that's considered a living legend. When Eric Clapton first visited the United States, he called Jerry the "best guitar player in the world." He's shared the stage with a lot of iconic musicians – Jimi Hendrix, Clapton, BB King, and The Doors. Jerry was a major influence for Led Zeppelin and Robert Plant has been one of his biggest supporters.
Jerry Miller is a musician that was born in Tacoma, Washington, and was still living in that region until recently when some water was released from Mud Mountain Dam, destroying Jerry's home, leaving many people homeless, including Jerry.
Along with a destroyed home, a lot of irreplaceable possessions were damaged beyond recovery- tape recordings, photographs and family scrapbooks. Jerry survived the flood, taking whatever he could cram into his car, including a few guitars, an old amplifier and his 13-year-old German short-haired pointer, Rumplemintz.
Jerry Miller had a very colorful career in the music business. In the 1950s-1960s, he played with a variety of different Northwest bands, including the Elegants and the Frantics. He played guitar on an early version of the hit record "I Fought the Law" by The Bobby Fuller Four, touring with Bobby Fuller before the final formation of the popular band.
During the mid-60s, Jerry and Don Stevenson, two members of The Frantics, moved the group to San Francisco, adding Bob Mosley, which ultimately became the nucleus of what would become Moby Grape. With the addition of Skip Spence from Jefferson Airplane, and Peter Lewis of The Cornells, Moby Grape was formed.
A debut album was released in 1967 on CBS Records, and a majority of music journalists declared Moby Grape to be the best rock band to emerge from the San Francisco music scene in the late sixties. Unfortunately, the success of the band was mixed with many migraines. As Jeff Tamarkin explained in his book "Got A Revolution: The Turbulent Flight of Jefferson Airplane"…..
"The Grape's saga is one of squandered potential, absurdly misguided decisions, bad-luck, blunders and excruciating heartbreak, all set to the tune of some of the greatest rock and roll ever to emerge from San Francisco. Moby Grape could have had it all, but they ended up with nothing, and less."
The story of Moby Grape is convoluted, complicated saga that's certainly worthy of it's own documentary, and I hope someone will someday pursue such a project.
If critical acclaim would have equated to financial compensation, then the members of Moby Grape would have been very rich men, but things didn't quite work out that way. Skip Spence was homeless for many years before dying of lung cancer in 1999. Because of some legal complications with Moby Grape's original manager, the first three albums are no longer available on CD, despite being previously released by Sundazed/CBS/Sony.
It's still a mess in the Moby Grape universe.
Right now, Jerry Miller is dealing with the immediate challenge of being homeless. Luckily, there's some good people looking out for him.
On Sunday, March 8, there will be a big benefit for Jerry at The Swiss in Tacoma, WA.
A Jerry Miller Flood Relief Fund has established, allowing folks to make their donation via PayPal.
You can find more details about such activities by visiting:
JerryMillerBand.com
In the San Francisco Bay Area, Jerry is appearing this Friday, February 20th at Don Quixote's in Felton, California. Tickets are only $10, which is a total bargain. I may be not be to give the financial support to Jerry I'd like to, but I figured I can at least attend this gig as a show of support for one of the good guys in the music business.
I hope to see many of my friends at this little club in the Santa Cruz Mountains. I'm sure Jerry's going to put on a helluva great performance, as usual.
In the the meantime, check out this archival TV appearance of Moby Grape from the 1960's.. ….. go visit your local record store to buy more Jerry Miller and Moby Grape albums.
The previously-mentioned YouTube clip has been disabled, unfortunately…