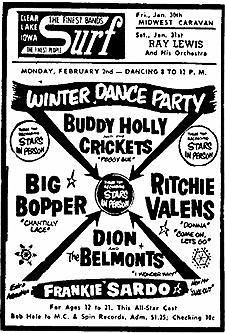 This doesn't direct tie directly into the LOUIE universe, but I figured anyone hip to the roots rock music circle that LOUIE is a part would appreciate this information.
For the past few weeks, I've been seeing a lot of things regarding the final flight of Buddy Holly, Richie Valens and the Big Bopper.
Bill Griggs wrote an article about Buddy's overnight bag, which was given to him by Buddy's brother.
Larry Holley went to Clear Lake, Iowa to identify and claim the body of his brother. He went to the crash site and actually picked up this bag which was lying in the snow. He brought it home and kept it under his bed all those years until he gave it to me in 1989.

I have only opened this bag twice. The first time was to inspect the contents and list them along with photos for my records. The second time was for the UK Buddy Holly tribute program Without Walls-Not Fade Away that aired in 1996 in England . On that program, you saw me remove some of the contents including a pair of Buddy's sunglasses in a case. In the original article below from 1989, I held back that information but if you saw the program, you know now.
One my MySpace friends, Kevin Montgomery, created a wonderful video blog about what it was like to play at Clear Lake, Iowa for the 50 Winters Later celebration. Kevin's father, Bob Montgomery was an early songwriting and collaborative partner of Buddy Holly, creating music together as "Buddy and Bob." In this blog, Kevin writes and shares videos of what it was like to hang with the other people that attended this special event – Tommy Allsup, Maria-Elena Holly (Buddy's widow), Jerry Allison of The Crickets, our friend Pat Dinizio of the Smithereens, Dave Mason, and a lot of other good people.
Here's a little video from Kevin's collection, shot with a little Flip Video HD camera.