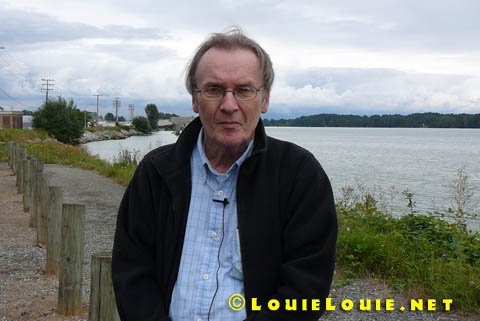 One of the great highlights of my trek to the Pacific Northwest was a chance to visit with singer Marcel Chouinard in Canada. During the early 1960's, Marcel was one of earliest performers to perform LOUIE LOUIE on television. The Canadian Broadcasting Corporation had a regional musical television show entitled "Let's Go" and Marcel performed this song on this show, backed by The Nocturnals.
In the Vancouver, British Columbia region, Marcel Chouinard had a fairly successful career performing music with his band Sound Unlimited. He discussed his career in a recent email:
I don't want to disappoint you, but I don't have any other recordings at all, except for the 3 shows I did for CBC. I had my own local band and sang in the Vancouver area for a few years. I do not have any original material, I did not write any songs.

I was approached by a gentleman from "Teenagers of the Pacific" agency (who was handling Paul Revere and Englebert Humberdick at the time to come to Hawaii. Also an agent from RCA-Canada. At that time, my drummer got killed in an auto accident going home from the club one night. Then our Organ player got killed 6 months later in an accident, so we (the band) decided to just pack it in.
When THE MEANING OF LOUIE documentary is finally released, the world will learn more about Marcel Chouinard.
To be continued…..
UPDATE: I'm sad to report that Marcel passed away on October 12, 2009. View the LouieLouie.net obituary by clicking here.