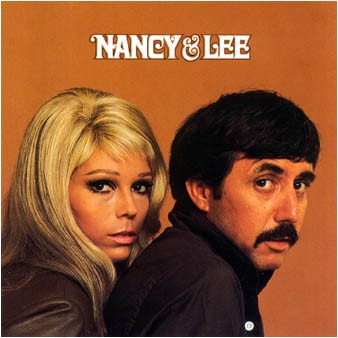 Where I live in Northern California, I'm fortunate to experience some fairly decent weather, visit some great record and book stores, and see a lot of different musical acts. One of the places I've seen some really enjoyable acts is at the Santa Cruz Beach Boardwalk, which is an old amusement park on the coast with roller coasters, bumper cars, whirly birds and a lot of really fun rides that haven't been "modernized" yet. During the the summer, they have a lot of different musical acts performing for free as part of their Friday night music series. I've seen a different artists at this event, including the Kingsmen, Paul Revere & the Raiders, Joan Jett, Bill Haley's Original Comets, Don McLean, Mark Lindsay, the Coasters, the Drifters, and most recently, Mary Wilson of the Supremes. Someone once asked me which show I've seen at the Boardwalk was the most memorable.
Without hesitation, I always mention the show featuring Nancy Sinatra with Lee Hazlewood. The year was 1995, and Nancy did her first major tour in many years. That year, she played the Fillmore, the Viper Room, the Whisky, the Limelight, and a lot of other really "hip" nightclubs in the USA. I happened to see her for free at the Santa Cruz Boardwalk that year, and it was a concert I'll never forget. It was a warm night with a full moon, and Nancy sang songs I'd forgotten about. "Boots" was the obvious hit, but I was completely captivated as she sang "You Only Live Twice," "Lightning Girl," "Sand," and even "Sugar Town."
Lee Hazlewood was part of the show, but I wasn't that familiar with his music at the time. I knew that he was the songwriter of "These Boots Are Made For Walking," but not much else. On stage with Nancy, he did some duets, singing "Some Velet Morning," "Summer Wine," and "Something Stupid." The synergy between these two was really something to behold, and it felt like such a magical moment to witness these two people singing music once again. For the next few weeks, I remember listening to a lot of music by both Nancy and Lee, as I made a point of tracking down more of their music.
Today, I learned that Lee Hazlewood passed away. His last album "Cake or Death" addressed the fact that he had inoperable cancer. Like both George Harrison and Warren Zevon, he knew his time on this planet was coming to an end soon, so he spent the last years of his life working on his own musical epitaph. Looking at his MySpace page, I see a lot of people are paying tribute to his talent, which is very cool.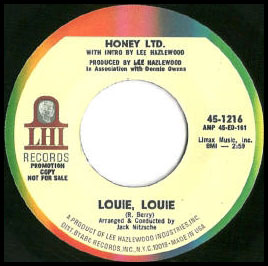 Believe it or not, but there actually is a LOUIE LOUIE connection to Lee Hazlewood. He produced a version of LOUIE LOUIE by Honey Ltd, a girl group in the 1960s. You can learn more about Honey Ltd by going to the Spectropop page and the Perfect Sound Forever page.
Stretch Riedle, uber-LOUIE-ologist and former leader of the Shockwaves sent me this message:
The Shockwaves used to do a song I called "Lee's Hearse", which was a medley of 3 tunes Lee wrote that many surf bands covered. We decided to do all 3 together, and we did it regularly. "El Aguila/The Hearse/Baja". We stole the songs from the Astronauts, who did them all individually.
You can read more about Lee Hazlewood by checking out:
NewYorkNightTrain.com obit
The Lee Hazelwood Wikipedia entry
Lee Hazlewood's MySpace page